Document Restoration in Greater Los Angeles
We provide water and fire damage restoration for documents, photos, and more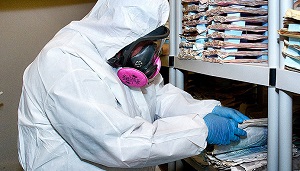 Our experts are fully trained to handle all types of document damage.
If your home is damaged by a flood or fire, there can be much more involved in the restoration beyond repairing the house itself. At PRC Restoration Inc., we specialize in complete document restoration services for water and smoke damage. Our experts can help you restore important documents, photos, and more.
If you need document restoration services for your home, call us today at 1-844-812-4420 or contact us online to get a free assessment. We offer all our disaster restoration servies in Carson, Long Beach, Lakewood and the nearby areas.
Our document restoration process
Our process involves thoroughly reviewing damaged materials to create an appropriate plan for cleaning. We inventory documents during pack out and then clean and dry documents in our restoration facility. Here's how our restoration process works depending on the type of damage you have:
Water Damage
The first course of action is to stop the continuing progression of damage. Water in a liquid state in contact with your documents hastens the permanent loss of your records. Once the water problems have been mitigated, other contaminants can be dealt with as a secondary situation.
Water destabilizes the structural integrity of paper. Freeze drying remains the most effective solution to minimizing further damage.
Time is of the essence. A quick and organized retrieval system is one of the most important actions to ensure an acceptable post-recovery item.
Fire Smoke (Soot) Damage
Once documents come into contact with fire/soot damage, they cease being usable in their present state. Labor intensive methodologies exist to remove soot damage however, reproduction of documents may be necessary.
Documents involved in a fire/soot incident will have ongoing odor and health ramifications.
Ozone treatment remains an effective solution for deodorizing documents.
Deodorization and fumigation treatments can be used to mitigate contamination.
Documents we can restore
Books:
Bound School Textbooks
Library Books
Legal Libraries
Medical & Dental Libraries
Reference Books, Manuals & Transcripts
Archival, Collections & Historical Data
Engineering & Architectural Drawings
Historical Fields:
Medical & Dental Files
Legal Files
Business Papers
Accounting Records
Engineering & Architectural
Drawings
Archival Records
Specialties:
Cash / Checks / Drafts
Historical Documents
Photos
X-Rays
Film
Microfiche
Media
Get quality document restoration services for your property
If you have documents that have been damaged by water or smoke, the restoration experts at PRC Restoration Inc. are here to help. Our fully trained professionals know what it takes to restore important documents and provide you with the right solutions to every problem. Call us today at 1-844-812-4420 or contact us online to get a free assessment in Carson, Long Beach, Lakewood, Torrance, Anaheim, Huntington Beach, Garden Grove, Torrance, Fullerton, Downey and the nearby areas.